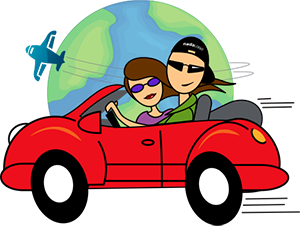 Our customers have nadaLOGO and will travel. They are so enthusiastic about their adventures they send us pictures of themselves sporting their nadaGEAR in some of the coolest places! We love to see where you take nadaLOGO.
Send us your travel pic & we'll post it to the web. Send us a really interesting or exotic place & you could win a free nadaLOGO cap to cover your dome when out & about.
Click on a thumbnail below to see where we have been so far!

Some of our customers are camera shy and choose to skip the photo opp. Instead, they send us rave reviews on our products and lots of cyber love. This makes us very happy.

My blue polo with the nadaLOGO is still my most comfortable shirt. It will be traveling with me tomorrow, across the pond, as we head to Italy for two weeks.


-- Phil P., Montana

The thing about Ireland is that the weather changes throughout the day. I was over there in February and it would go from moderate to cold relatively quickly. I brought along two outer garments -- a waterproof windbreaker to deal with the rain that falls each day -- and my NadaLOGO zippered fleece to keep me warm. The NadaLOGO fleece is the warmest sweater I have owned, with the possible exception of the NadaLOGO fleece pullover. I have purchased various items from NADA and found their products to be of high quality. Also ordering the products on line from them was simple even for me who is not computer literate.


-- Ken F.

My wife loved the nadaLOGO Fleece Jacket that I gave her for Christmas. She is very particular about what she wears and was very impressed by the quality and fit of her nadaLOGO Outerwear. nadaLOGO.com is a no-brainer when I'm looking for a gift.


-- Jim C.

The quality of your polos is generally available over here, for your prices, only at clearance time - when, of course, choice is limited. With the dollar/pound rate as it is, I think that would still be the case today.


-- Fred C. (Bristol, England)

I love the concept of nadaLOGO (I hope you have trademarked this name). I purchased one of your sweatshirts and I love it. I am one of 14 and have 40 nieces and nephews and I think you could expand your marketing to family reunions, Thanksgivings, Christmas, July 4th with orders that not only display your nadaLOGO yet add an extra "kick" in there with personalized events and/or family names - if my idea takes off, I do want a cut of the profits.


-- M.C.K.

My family and I are really happy with the nadaLOGO product! Over the past two years your t-shirts, golf shirts and sweatshirts have been a part of the "bag of gifts" that Santa leaves under the Christmas tree each year. Besides being such a great idea for a product, which in itself is usually enough these days, it really is a good quality product! We're very happy with the product and range of selections and colors that works for everyone in the family! My older two children make good use of their nadaLOGO gifts while off at college and my eight year old wears her "cool shirt" as she calls it to school. And on the weekends I can be found on the golf course wearing my nadaLOGO wind shirt which ,considering my high handicap, may be a source of negative advertising for you.


-- James D.

My family has been very pleased with the quality of the nadaLOGO line. My girls especially appreciate the range of colors and designs. As the Daddy, I appreciate the sensible pricing and the customer service. Keep up the good work.


-- Ed M.

For me, nadaLOGO is a great place to shop -- hassle free, easy to order, for any occasion, with prompt service and delivery. New styles for the trendy, and the basics for us old timers. I like the golf shirts and hats. My wife likes the sweatshirts, not to mention the good quality which is very noticeable after they hit the wash cycle. For us, it's NADAquestion. You will be presently surprised!


-- Steve O

nadaLOGO merchandise is like a breath of fresh air in a market redolent with competing major brands and media saturated with logo wearing athletes and celebrities. It's understated branding and sensible, comfortable designs are all well made and reasonably priced. The colors are outstanding. The website is one of the easiest to navigate and purchase from. All in all, nadaLOGO is unique, stylish, functional and fun!


-- Frank H.