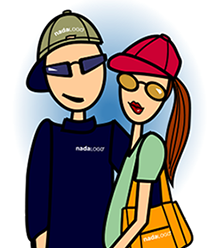 The whole nadaLOGO® idea started when our founder decided he was finished with the mainstream, gigantic designer labels and the walking billboard mentality. He wanted something with NO LOGO. No little "horsey" on the chest, no more golf club names, no more initials of some rich man or woman he would never meet -- NO MORE LOGOS!
This turned into nadaLOGO -- a new term that made his friends and family laugh. It was clever and it made perfect sense to our founder, Bill. He would create his own brand, select the best shirts, sweatshirts and accessories and he would market the idea to people just like him -- people who enjoyed poking fun at the brand-name overload we see everyday.
Want a little more clarification? Check out our video! And then get shopping...


Go ahead. Look around. We dare you to find nadaThing.